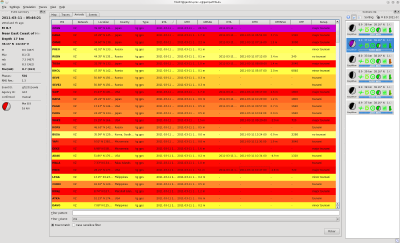 TOAST connects to a SeisComP system and listens to the incoming earthquake parameters. In case a hypocenter and magnitude arrives, TOAST uses a Wells & Coppersmith (1984) formula to generate the rupture size based on magnitude. By default the rupture area is centered around the epicenter, and the strike and dip information is derived from pre-configured fault information. Once the rupture area is generated, the simulation plugins are triggered.
EasyWave
By default EasyWave is used for on-the-fly tsunami simulation. In addition, plugins exist for reading different pre-calculated tsunami databases. Such databases are generated by external software such as TsunAWI.
The earthquake rupture area can be placed at multiple pre-configured positions relative to the hypocenter and simulations for several positions can be calculated on the fly in parallel. As the earthquake information change over time, new simulations are triggered automatically with each relevant update. The rupture areas can also be generated manually and simulations using these can be started.
Easy-to use operator interface
TOAST provides different perspectives showing the results of the simulation. They comprise the following features:
Time dependent simulated Sea Surface Height
Simulated maximum Sea Surface Height
Simulated isochrones
Simulated tsunami travel times
Estimated tsunami arrivals
Estimated tsunami coastal wave height
Observed tsunami arrivals through manual onset picking
Observed tsunami Wave Heights and Periods through manual picking
Points of interest and oceanographic sensors
Fault information
Rupture area
Earthquake parameters
Simulation progress
Simulation quality
Bulletin
To verify the simulation results, TOAST provides a manual tsunami onset picker. It allows to pick tsunami onsets, amplitudes and periods based on real-time tide gauge observations. The observed information is then used to calculate a scenario quality which represents how well the simulated and observed values match.
For example the quality of the oceanographic sensors is indicated by the color of the tide gauge symbol in the simulation widget. The simulation widget shows these quality parameter not only for the tide gauge data, but also for epicenter location, depth, magnitude, comparison with pre-configured rupture mechanisms and existing moment tensors. The quality information can change with time as TOAST compares the simulation information with the updated earthquake and tsunami information.