High-performance networks for earthquake monitoring
npeval provides SeisComP operators with up-to-date information about the current or expected performance of the monitoring network. It also reports significant changes in station quality (QC) parameters for delivery to network operators, personnel on duty, etc. npeval is therefore is an essential module to achieve and maintain an optimized monitoring system.
It generates
Grids on maps with

the minimum time required to locate seismic events,
the minimum magnitude of seismic events for which the network is expected to deliver a location,

Points or interest with

S-P travel-time estimates as a proxy for early warning times

QC reports for stations with significant changes which can be sent to any recipients using GDS or custom scripts.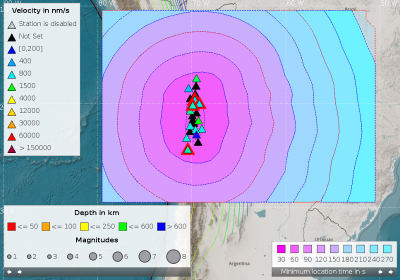 The minimum time required to locate earthquakes can be updated dynamically and shown on maps.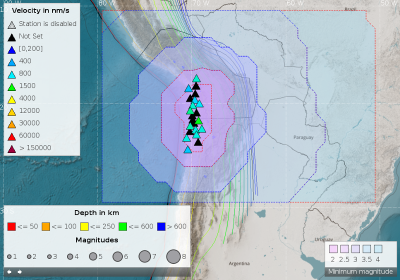 Minimum magnitude of earthquakes that can be expected to be located automatically.
The geometry of seismic networks and the quality of the involved sensor stations determine the capability to locate earthquakes within a specific time and for a particular magnitude range. When establishing seismic networks those design requirements are typically considered. During operation of the network the station quality parameters can change or stations even become unavailable. Such changes possibly require actions since they affect the earthquake monitoring performance. The monitoring performance must therefore be evaluated whenever possible.
npeval evaluates the seismic monitoring networks in real time. When executed before or during station setup, npeval can assist in designing optimum seismic networks.
The values are calculated for grid points within a configurable region. npeval takes into account network geometry and data quality control (QC) parameters such as noise or data delay. Upon significant changes, the times and the magnitudes are re-calculated. The output parameters can be stored as surfer GRD files, BNA polygons or PNG images. The GRD files and BNA polygons can be shown and dynamically updated on maps. For showing several GRD files on maps at once we recommend our mapmultigrid plugin.
The QC reports are generated in JSON format which can be processed further by custom grids or sent to basically any recipient and by any method, e.g., email, SM, social media, etc. using GDS.
Documentation