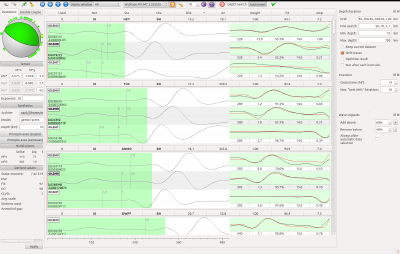 scmtv is used to create and revise moment tensor solutions.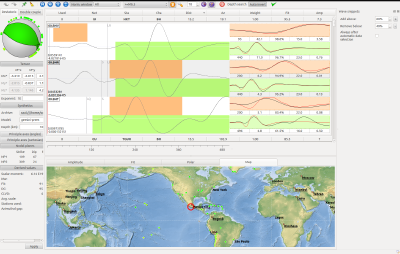 Map plot of the waveform review page. It shows the all contributing stations.

scautomt runs in real-time and computes moment tensor solutions in near real-time fully automatically triggered by events created by a SeisComP system.
It is configured with a set of magnitude dependent profiles. Each profile defines the phases to invert for and the corner periods of the band pass filter.
When triggered by an event, solutions for all profiles matching the SeisComP magnitude estimate are used and the solution with the highest fit (or lowest misfit) is sent back to the SeisComP system as as focal mechanism object which is in turn considered by scevent to be selected as preferred solution.
Once an event is received by scautomt, it starts to read waveforms of all enabled stations up to a configurable epicentral distance (preferably via SeedLink or any other streaming server) and updates the solution if there is a significant amount of new data.
scmtv (Moment Tensor View) is the counterpart to scolv to review automatic or manual moment tensor solutions.
It allows operators to check observed and synthetic waveforms, add and remove networks, stations, components or even single waveform snippets. scmtv supports an automatic best fit search or allows interaction at all analysis levels.
Predefined profiles allow an easy switch between different filter settings as for example settings for body- and surface wave or W-phase analysis for different magnitude classifications. Colors indicate the different wave types.
An automatic depth search can be conducted and the results are visualized in the depth search plot. In addition, scmtv provides several tools and plots to check the quality and stability of the solution.