Architecture
The GDS is built up by a set of individual modules to
feed
filter
automatically and interactively disseminate
As shown in the architecture, GDS is composed of a bunch of individual modules which acquire (gray), process (green) and disseminate (blue) earthquake information. In addition a web interface (red) exists which allows to configure, interact and review the dissemination process.
We developed a new protocol with a software implementation (QuakeLink) to exchange earthquake information in real-time or based on time windows. QuakeLink offers plugins to import earthquake information from different sources such as a SeisComP system. GDS connects to QuakeLink to receive earthquake updates. Based on predefined criteria new earthquake information is filtered and forwarded to all matching queues. With the help of configurable templates bulletins are created and stored in spool directories. Service specific spoolers (e.g. email, SMS, etc.) send the bulletins to the subscribed recipients.
Web interface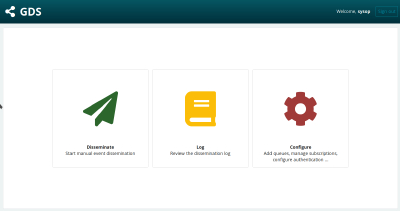 Main perspective
A Web interface is provided which allows configuration of the GDS, interactive dissemination of bulletins and review of the dissemination history.
The Web interface ships with an user management which allows assignment of fine-grained privileges to users or groups of users. For instance the dissemination task can be strictly separated from the configuration part. Modifications to the configuration are tracked per user to be able to track certain changes.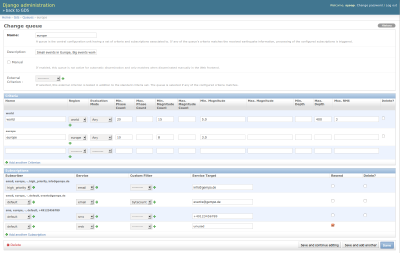 Configuration of dissemination queues, services and subscriptions
Configuration
Web-based configuration of dissemination queue, services and subscribers.
The central configuration unit is a queue having a set of criteria (filters) and associated subscriptions. If any of a queue's criteria matches the received earthquake information then processing of the configured subscriptions is triggered. In addition a queue can be configured to require a manual review before starting the dissemination chain.
A criterion supports the following filter parameters:
geographic region (latitude/longitude bounding box)
depth and magnitude thresholds
evaluation mode (manual/automatic) of the event information
phase count and quality information
free key-value pairs (for example intensity, MMI etc.)
If these filter parameters do not suffice external criteria filtering scripts may be configured which operate directly on the event information and report a match or mismatch via their exit code.
A subscription is defined through service, subscriber (user) and recipient information (address). The service defines the bulletin template for formatting the content and the spool directory the content is placed in. If required the default template may be replaced by a subscription-specific template allowing the operator to generate different content for certain subscribers. A subscription can be configured to be triggered only once or for each update (revision) of an earthquake. Typically an SMS is only sent out once, while an earthquake information Web page will be updated with every earthquake revision.